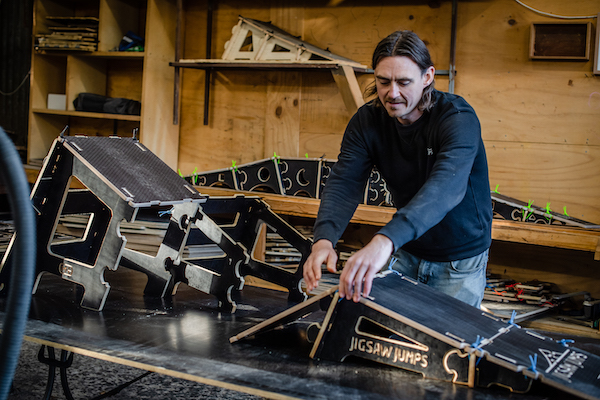 After 8 months developing prototypes at YREC, Jigsaw Jumps launched its range of portable bike jumps to the market in August 2021.
Sam Knight, the inventor behind this innovative and locally designed and manufactured product, is now in full production, doubling the amount of floor space in his business, tripling his production capacity with additional C&C machines, and employing three local part-time employees.
The range of 12 different products, four core jumps in backpacks, plus a range of tabletop and rollover extensions, has found a steady market via online sales on the Jigsaw Jumps website, and through a select and growing range of more than 20 bike shops in Australia.
He credits this early uptake to a solid social media campaign and the opportunities he has been able to embrace for kids and parents to actively try the product for themselves.
In October last year, Sam and the team attended the popular Crankworx mountain bike event in Cairns in Queensland, which attracts more than 34,000 spectators and 1,100 competitive athletes over a 5-day event. Jigsaw Jumps designed and built a pop-up kid's bike track and jump park that Sam set up for different stages of riding and skill development.
This exposed his product range to a significant number of mountain bike lovers and attracted solid media attention. Jigsaw Jumps has now been featured in the AMB (Australian Mountain Bike) Magazine, Flow online magazine, reviewed by Tyres and Soles and was seen on Sunrise TV. The team will return to Cairns for a follow-up event in May 2023. Cairns City Council have also requested Jigsaw Jumps set up a pop-up bike track on the Cairns Esplanade to be part of their public health and wellbeing week.
Sam underestimated the demand for such events. "I thought we would do some free pop-up trial sessions to help get the word out, but I've been approached a lot to set up actual events and be paid for providing an experience, especially for kids, councils, scout groups and schools."
As his product has grown, Sam has realised that his key market is parents buying for children and the value of his modular system, which allows the jumps to grow with the user. "Repeat purchasing is validating we are on the right track!" he says.
YREC has been home to this start-up business and Sam knows the support he has received there has been critical to his brand's growth and success. Being able to expand when needed, support and professional advice from fellow tenants and management, and the ability to locate in a community championing his success have all contributed value in his launch year.
Local support from bike retailers and collaborations with adventure groups have also helped Sam establish his foothold in the market. In the future, Jigsaw Jumps may also be incorporated into some high profile local projects for the upcoming Warburton Mountain Bike Destination.
Whatever happens, Sam is ready to take Jigsaw Jumps to the next level!